Signalfan's Signal Garden
The signal garden was located in my backyard in Fullerton, California when I lived there. It was in operation from 2000-2005. The garden was dismantled when my family and I moved to Iowa and has not been restored. A few selected pieces will be placed under the deck of our new Iowa home in the near future, but will not be of the extent I had in California.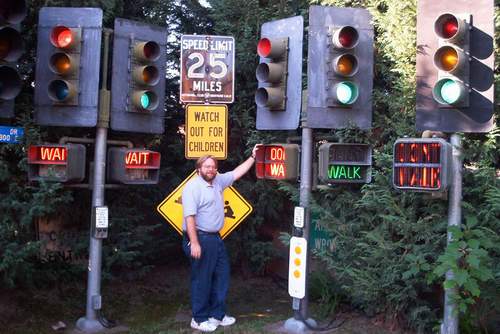 The following photos show some of the signals and signs in the garden. It was a blast to interconnect them with the original controllers and build mini "intersections" with them.

There were many more signals in the collection than are pictured here. At present, I have over 80 vehicular and 20 pedestrian signals. I also have over 500 road signs...over 40 of which are old Auto Club signs from the 40's and 50's.

These views give a good perspective of how many kinds of signals and control cabinets are out there.
Click the photo below to see the signal garden at night!






Home / Bio / Signals / Misc. / Signs / Controllers / History / Links / Faq's / Club

All contents ©1997-2012 by Signalfan. All rights reserved.